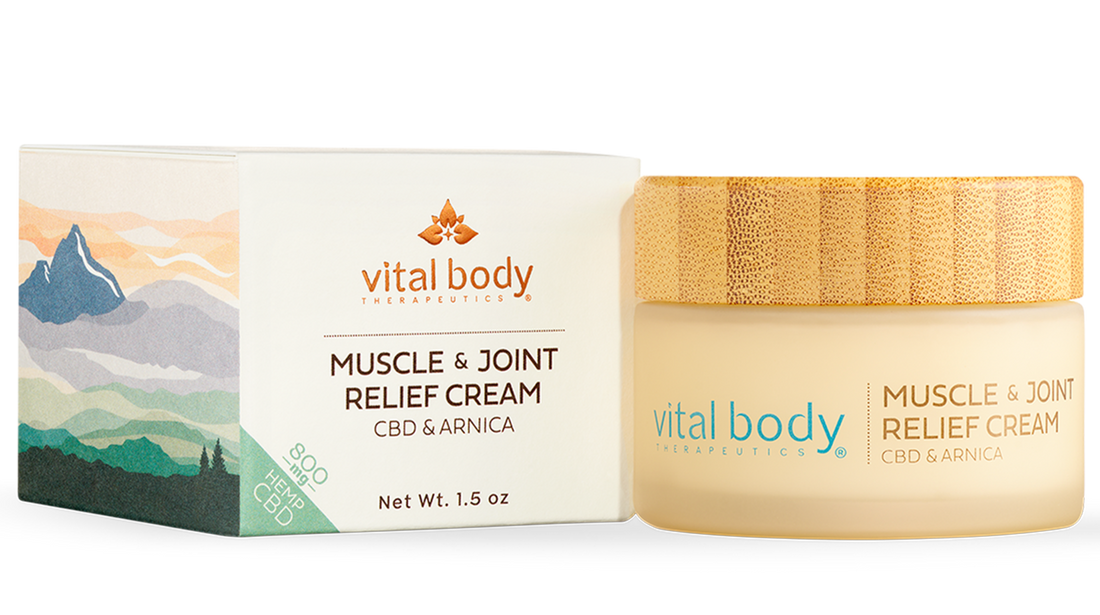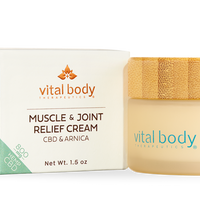 Muscle & Joint CBD Relief Cream
Our best seller for a reason! Powered with over 1600 mg CBD (in the 3oz jar) and an aroma that makes you feel like you just stepped into a spa, this cream is a must have for everyone. Choose between two sizes: 800mg CBD/1.5oz and 1600mg CBD/3oz 

Water, Shea Butter, Safflower Oil*, Olive Oil*, Glycerin, Emulsifying Wax NF, Stearic Acid, Citric Acid, Lavender Oil, Cannabis Sativa (Hemp) Extract, CBD, Arnica Montana*, Calendula*, Chamomile*, Comfrey*, Dandelion*, Ginger*, Menthol Crystals, Vitamin E, Essential oils of Eucalyptus, Orange, Cedarwood, Vetiver, Silver Dihydrogen Citrate.

*certified organic


Apply a liberal amount of cream to the affected area 2-3x/day. There is no risk of using too much so apply as often as needed.
Arnica Montana
Ingredient Highlight
Arnica is used topically for a wide range of conditions, including bruises, sprains, muscle aches, swelling, joint pain, and inflammation from insect bites.
Learn More
Adriana Nogueira L.

Verified Buyer

1 year ago

Pain Relief

Amazing, I recommend this to all my friends.

ER

1 year ago

For my Mastectomy, & previous knee surgeries, this works SO well!

I wrote a glowing review, over a yr ago, & now for an update! The Muscle & Joint Relief Cream is GREAT for my Double Simple Mastectomy, muscle relief. I went flat, so I'm working on building up my pec muscles. This stuff is so very soothing during stretching, biking & muscle building. Extra strength is the way to go! I discovered it when I had 2 torn meniscus, knee surgeries. I just can't find an Organic, Cruelty-Free, CBD product like this, anywhere! Others are too weak, or just not good. This is best, & I wish it came in a larger size! The soothing, woodsy smell is fantastic! (I attached a photo, but it's the old style jar.)

Donna B J.

Verified Buyer

1 hour ago

Relief from hip pain

I'm scheduled for my second hip replacement in March '94 and have been suffering from the deterioration

of my hip from arthritis and the pain has been escalating, as it did with my other hip. I had never used products such as this but rather used high dosages of Ibuprofen to relieve my pain.

Recently, I went to a spa that carries your product and the massagist used your cream on my hip. I was astonished how how quickly it dulled the pain and surprised it lasted for such a longer period of time. I bought your product on the spot. It was quick expensive as it was a raised price being sold in a Spa, as I came home to discover that it was less expensive ordering online. However, that being said, I hope the price does not escalate as I'm going need this product for a length of time - and who knows, perhaps in the future after my hip replacement. I do actively keep an eye out for "sale prices".

I'm very grateful for this product - thank you !

I'm grateful for the relief!

I use the Muscle & Joint CBD Relief Cream for my restless legs at night. The cream works so well, I have almost eliminated taking Tylenol at night. Surprisingly pleased.

Vital body CBD

I started using this cream about 6 months ago, my doctor told me to try CBD products, I use it and it helped me with my pain because I have arthritis and carpal tunnel, my pain is so much better, I recommend it to everyone.
Reviews Loaded
Reviews Added