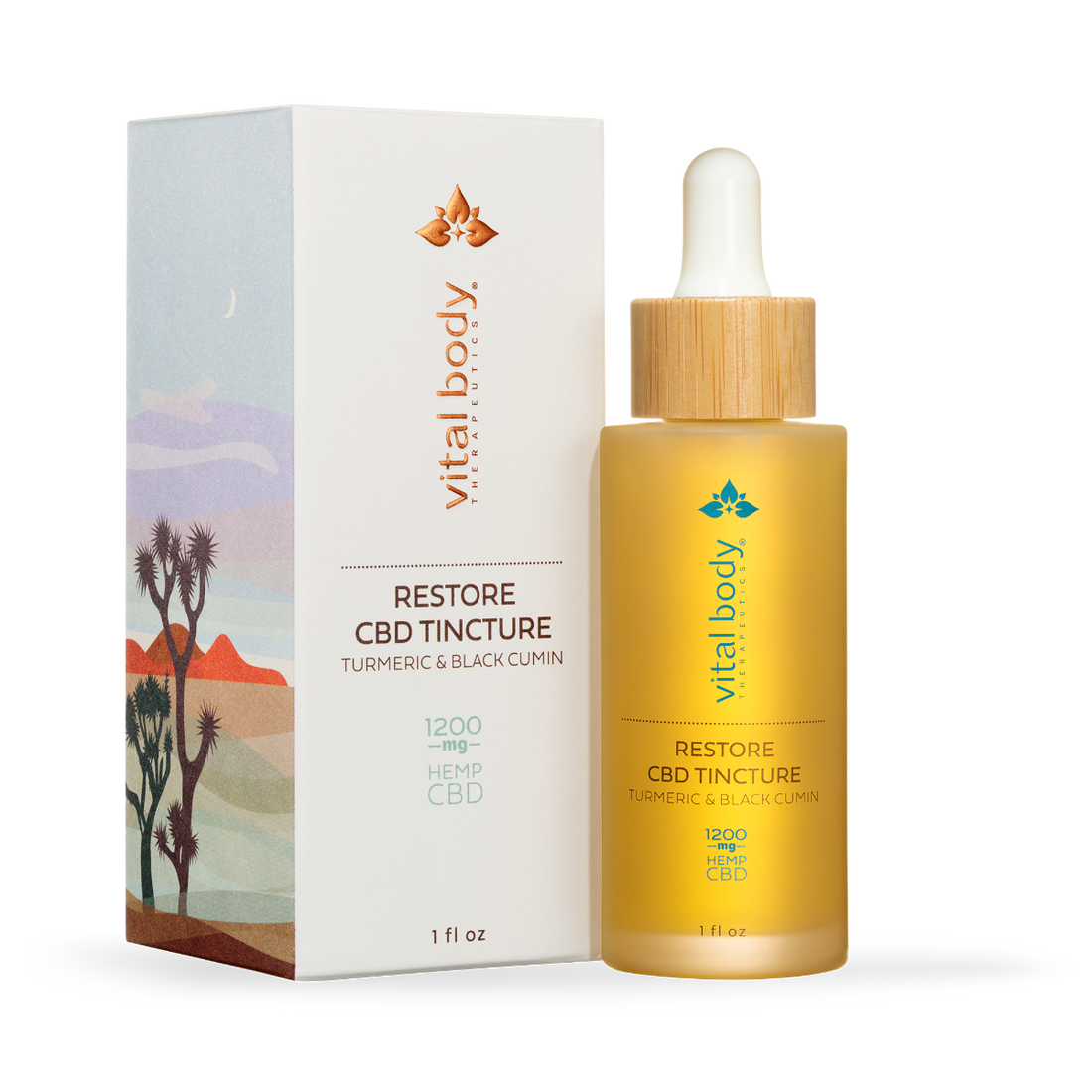 Support your body's endocannabinoid system to manage stress, anxiety and improve sleep with this delicious, broad spectrum CBD tincture.
Fractionated Coconut Oil, Hemp Extract, Cannabidiol (CBD), Turmeric Extract*, Black Cumin, Stevia*.

100% Natural - Mild, refreshing flavor · No preservatives added · THC free · Gluten-Free, Sugar Free, Vegan & Non-GMO · Manufactured in the USA · Lab tested for purity & potency ·

Contains 40mg CBD per 1 ml serving
Shake well before using and use the dropper for accurate dosage.

Place one full dropper (40 mg of CBD) under the tongue for 10 seconds before swallowing. Start with one full dropper and increase increase dosage until you achieve the desired effect.

This product can be enjoyed sublingually or added to your beverage of choice (water, tea, juice, etc.). Appropriate serving sizes for CBD varies greatly depending on individual factors, such as intended use, body weight, metabolism, and body chemistry. Consult with your healthcare professional regarding dosage and frequency, and if you are pregnant, breastfeeding, have any medical conditions, or are taking any over-the-counter or prescription medications. CBD has the potential to interact with medications.

Store in a dry, cool place away from direct heat and sunlight and make sure the cap is securely fastened after each use to prolong shelf life.
Ingredient Highlight
Turmeric
Turmeric — and especially its most active compound, curcumin — is a potent anti-inflammatory and antioxidant.
Learn More
Best Sleep in awhile!

I was excited to try this, based on other reviews. I have some health issues & a recent shoulder surgery that has been making sleeping through the night more challenging. I fall asleep no problem on my own, but was having a hard time waking up bc my sleep quality wasn't great as I was waking up a lot during the night. This helped me sleep through the night & wake up early. No weird groggy feeling. Highly recommend.

Best CBD tincture

I purchased this to help with anxiety and pain, it has worked for both. I purchased 2 more bottles as my son and husband used most of it. My son says it helps him sleep, and hubby uses it for back pain . Wonderful product!

Great to get a good nights sleep

I was leary when my massage therapist recommended this because I'm not a big fan of CBD. BUT o gave it a try and it helps me sleep so much better. When I had to stop using because I was having surgery, oh how I longed for a better nights sleep. I only use about 1/2 dose and it works wonders for me. :) highly recommend this product. The taste is actually good compared to other cbd tinctures

Courtney K.

Verified Buyer

10 months ago

Best Sleep I've Had In Years

I decided to give this a try to help with sleep as I tend to only sleep a few hours and then wake up. The first night I took way too much (nearly a dropper full) and while I did sleep like a rock, I woke up groggy the next day. I waited a few weeks, gave it a try again with just a couple of drops on the tongue, and that was the perfect amount. I slept soundly through the night, and my HRV was better. No grogginess the next day. I'm not a huge fan of the taste, but it's not horrible and completely worth it for some solid zzz's.

Restore CBD Tincture

I have been using Restore CBD Tincture for about two months. I take it a few hours before bed to help me relax and sleep better. I take again mid day before I leave for my job in the afternoons. It helps me stay calm and relaxed.
Reviews Loaded
Reviews Added